JAZZQUAD, Bela­rus
Sep/2018 by Leo­nid Auskern
visit the page here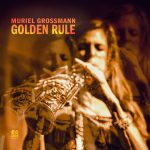 Muri­el Gross­mann — GOLDEN RULE The fourth acquain­tance with the music of Aus­tri­an saxo­pho­nist and com­po­ser Muri­el Gross­mann, who is living in Spain. Without detrac­ting from the merits of Muriel's works that I heard and wro­te about ear­lier (EARTH TONES (2015), NATURAL TIME (2016), MOMENTUM (2017), I con­si­der her new pro­ject Gol­den Rule to be the crea­ti­ve pin­na­cle of this talen­ted jazz lady and her stron­gest work up to this date.
Also Gol­den Rule was recor­ded like the last three albums by Muriel's Aus­tro-Ser­bi­an quar­tet with gui­ta­rist Rado­mir Milo­j­ko­vic, bas­sist Gina Schwarz and drum­mer Uros Sta­men­ko­vic. The album is publis­hed in two ver­si­ons – 2x12' LP and CD, which is due to appe­ar by the end of the year with a slight­ly redu­ced com­po­si­ti­on Tran­eing In (without a four-minu­te intro). The Cd dif­fers also in the design of the cover. In our review, the cover of the vinyl album is repro­du­ced. The album is very solid in terms of dura­ti­on: more than eigh­ty minu­tes of sound, only seven tracks all tog­e­ther. The lon­gest, Tran­eing In (almost nine­teen minu­tes of sound), took the who­le side of one of the vinyl records. But the point, of cour­se, is not the length, but the qua­li­ty of the music.
I have never heard Muri­el Gross­mann have so much expres­si­on and inspi­ra­ti­on in her play­ing on both her instru­ments, on the sopra­no saxo­pho­ne (as in the star­ting pie­ce of Gol­den Rule), and on the tenor saxo­pho­ne (as in the next Core). Muriel's long, unusual­ly emo­tio­nal impro­vi­sa­ti­ons are fol­lo­wed by Milo­j­ko­vic's ans­we­ring and ela­bo­ra­ting gui­tar solo, then to give way to a new, equal­ly expres­si­ve and tech­ni­cal­ly diver­se saxo­pho­ne solo. Muri­el plays in this album as if it is the last time in her life! All this action takes place against the back­ground of fle­xi­ble poly­rhyth­mic con­struc­tions crea­ted by the rhythm group (in my opi­ni­on, this album beca­me the most striking per­for­mance for Sta­men­ko­vic). When in the pie­ce Pro­mi­se or in the final, medi­ta­ti­ve com­po­si­ti­on Light, the tem­po beco­mes some­what more mode­ra­te, this does not affect the qua­li­ty of the per­for­mance. In Direc­tion, Grossmann's saxo­pho­ne impro­vi­sa­ti­ons are well recei­ved in an excel­lent dou­ble bass solo by Gina Schwarz. And from the point of view of gui­tar work, the top of Milo­j­ko­vic, for my tas­te, is in the com­po­si­ti­on Tra­ne.
It is worth remem­be­ring, that Muri­el con­si­ders as one of her main tea­chers, the famous Ger­man free jazz pia­nist Joa­chim Kühn. Perhaps the extra­or­di­na­ry free­dom of expres­si­on reigning in GOLDEN RULE is, to a cer­tain extent, due to its influ­ence. Well, and, final­ly, the main source of inspi­ra­ti­on, the eter­nal light of many Jazz genera­ti­ons alrea­dy — John Col­tra­ne. It is not by chan­ce that one of the pie­ces of Gross­mann in this album is named after him, and the name of the other is the neo­lo­gism of Tran­eing In (liter­al­ly: "Inha­ling"). Tra­ne, espe­cial­ly the late Tra­ne, regar­ded music as a kind of sac­red, spi­ri­tu­al act. Fol­lowing him, Muri­el Gross­man aspi­res to the same spi­ri­tua­li­ty in her music, and — damn it! — She's gre­at at it!
The liner notes aut­hor Micha­el Jack­lin exp­lains the tit­le of the "Gol­den Rule" album by the famous bibli­cal (and world­ly) maxim: "Tre­at others as you would like them to tre­at you". It's hard to argue with that. But with refe­rence to the work of Muri­el Gross­mann, a dif­fe­rent inter­pre­ta­ti­on can be made here: "Go your own way. per­fect yourself, set yourself more and more hig­her tasks." The new album of Gross­mann, in my opi­ni­on, is a mas­ter­pie­ce reflec­ting exact­ly such an approach. Leo­nid Auskern