Grossmann / Milojkovic / Landfermann / Lillinger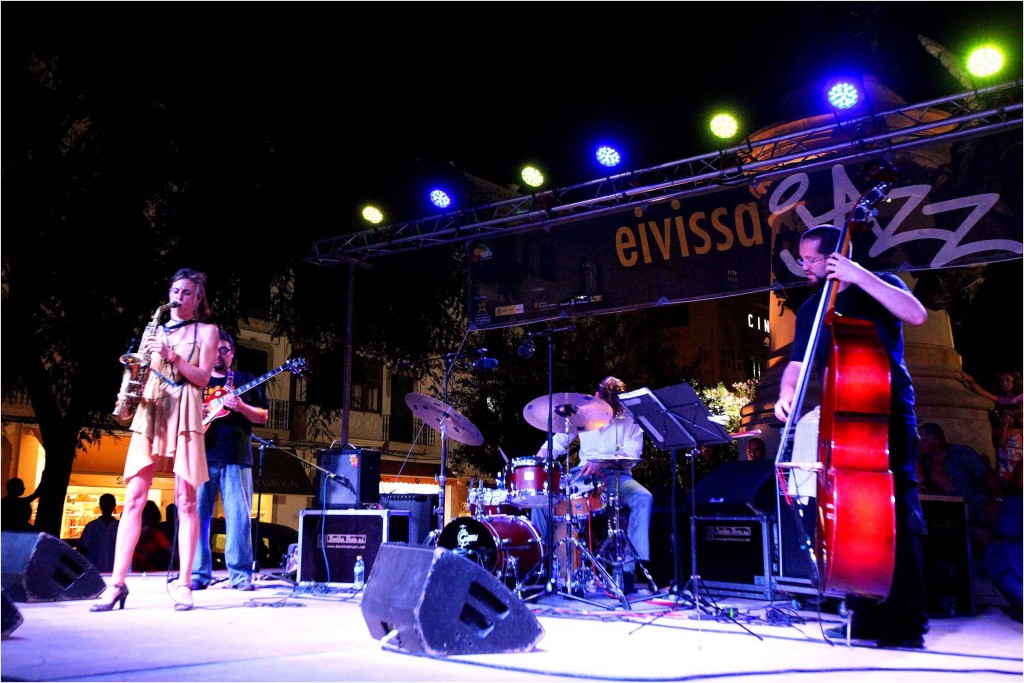 Muri­el Gross­mann alto, sopra­no saxo­pho­ne, flute
Rado­mir Milo­j­ko­vic gui­tar
Robert Land­fer­mann bass
Chris­ti­an Lil­lin­ger drums
Ener­ge­tic and inter­ac­ti­ve play­ing fea­turing Muri­el Gross­mann on alto, sopra­no saxo­pho­ne and flu­te, Rado­mir Milo­j­ko­vic on gui­tar, Robert Land­fer­mann on bass and Chris­ti­an Lil­lin­ger on drums.
We all, I guess, can rea­li­ze up until now, that the gui­tar is still the bea­rer of chan­ge; some­thing new still can be added. Milojkovic's play­ing is deeply roo­ted in tra­di­ti­on, not only Jazz but also Blues and so-cal­led World Music. Chris­ti­an Lil­lin­ger is one of the most adven­tur­ous and exci­ting drum­mers of his genera­ti­on, a musician's musi­ci­an, pro­vi­ding a wide ran­ge of con­cepts, ide­as and moods that ulti­mate­ly is giving a new voice for the drums. Robert Land­fer­mann is a supre­me­ly gifted per­for­mer with pris­ti­ne tech­ni­que and far reaching ima­gi­na­ti­on, both as accom­pa­nist and as soloist. The­re is a trust bet­ween the­se peop­le: to deli­ver, wha­te­ver it takes.
Tho­mas D. H. Foster

Muri­el Gross­mann, Aus­tri­an Saxo­pho­nist who lives on the island, offe­red a fan­tastic con­cert on the second day of Eivis­sa Jazz Fes­ti­val. The fans enjoy­ed an unf­or­gett­able night in the cen­ter of Eivis­sa. Her per­for­mance was extra­or­di­na­ry, some­ti­mes soft, almost spi­ri­tu­al, and some­ti­mes wild, full of ener­gy… Eivis­sa Jazz Fes­ti­val, Xicu Lluy, Dia­rio de Ibi­za, Fri­day, August 26, 2011.
If you meet Muri­el Gross­mann on the street you see a thin, fib­rous, woman wal­king with ele­gan­ce and decisi­on; but few can ima­gi­ne, that on sta­ge she is play­ing saxo­pho­ne so vigo­rous­ly, attacking each note as if it was part of her exis­tence. Fra­gi­le only in appearan­ce, Grossmann's jazz voice is more power­ful than most, and if we add the excel­lent quar­tet she for­med with her inse­pa­ra­ble Rado­mir Milo­j­ko­vic the result could only be of the hig­hest qua­li­ty. Muri­el Gross­mann is able to offer inten­si­ty and strength, to bring to evi­dence that whoever domi­na­tes the thun­der is also able to caress … Eivis­sa Jazz Fes­ti­val, Pep Tur, Ulti­ma Hora, Aug 2/201
.
ALBUMS
Awa­ke­n­ing DR 06 CD, 2013
Earth Tones DR 07 CD / DR 10715–2 LP, 2015