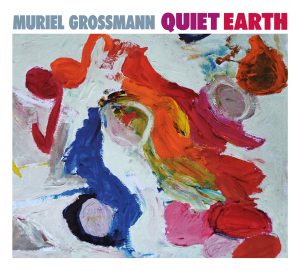 Album Review in JAZZ QUAD, 11/29/2020, Bela­rus by Leo­nid Auskern

Muri­el Gross­mann — Quiet Earth
Quiet Earth, the new album of the Aus­tri­an saxo­pho­nist Muri­el Gross­mann living in Spain, has been re-released by the Esto­ni­an label RR GEMS Records as Vinyl. Like the pre­vious album 'Rever­ence', Muri­el recor­ded it on her Ibi­za island in the quin­tet for­mat. Mal­lorcan orga­nist Llo­renç Bar­celó seems to have beco­me a per­ma­nent mem­ber of the team with which Muri­el Gross­mann has been working tog­e­ther for many years.
In her own hand­writ­ten liner notes, Muri­el speaks of the deep imper­fec­tions of our world, which make many feel hel­pless. She claims that ever­yo­ne should look for strength and posi­ti­ve ener­gy for chan­ge in them­sel­ves, and her music should help lis­teners to find hope and that very posi­ti­ve energy.
Well, for me per­so­nal­ly, Muri­el Grossmann's music always evo­kes the most posi­ti­ve emo­ti­ons. Quiet Earth, small in volu­me, was no excep­ti­on. The album inclu­des only four com­po­si­ti­ons by Muri­el. In the ope­ning song WIEN, the only thing that can be cal­led clas­si­cal (in a jazz sen­se) is the con­struc­tion of the com­po­si­ti­on, whe­re, after a saxo­pho­ne solo, Milojkovic's gui­tar, then Barcelo's organ, and final­ly Grossmann's saxo­pho­ne again come to the fore­ground. But jud­ging by the music, Muriel's memo­ries of the capi­tal of her nati­ve Aus­tria are clo­ser to the archi­tec­tu­re of Hun­dert­was­ser and Haneke's films than to the idyl­lic land­s­capes of impe­ri­al Vien­na during the time of Franz Joseph.
The com­po­si­ti­on AFRICAN CALL with the accen­tua­ted work of the rhythm group and bright saxo­pho­ne colours loo­ks like an echo of Afri­can moti­ves that occu­p­ied the main place in the pre­vious album 'Rever­ence'. The impres­si­on that the­re was sim­ply no place for Afri­can Call in that album, but here "Afri­ca" ​​works well in con­trast to the Euro­pean "Vien­na". As for the second half of the album, the pie­ces by PEACEFUL RIVER and the tit­le pie­ce QUIET EARTH, seem to be the ones who embo­dy Muri­el Grossmann's dreams of how our pla­net should look like.
What can a musi­ci­an do for this? To com­po­se music and put into the per­for­mance so much expres­si­on and talent that the lis­tener feels and remem­bers this pas­sio­na­te mes­sa­ge without words from the gre­at mas­ter of modern jazz, Muri­el Grossmann.
Leo­nid Auskern
© & ℗ 2020 RR GEMS Records (Vinyl) Dream­land­Re­cords (CD) 4 tks / 40 mins
(Muri­el Gross­mann — ss, as, ts; Rado­mir Milo­j­ko­vic — g; Llo­renç Bar­celó — org; Gina Schwarz — b; Uros Sta­men­ko­vic — dr;)
⇐ back to news page